WEBSITE: CLICK ON BOLD, GREEN PRINT
There is nothing like fall in the Smoky Mountains! The Smokies offer some of the most spectacular fall colors you'll ever see. This is a guide to everything you need to know about the fall foliage in the Smoky Mountains.
The Best Time to See the Fall Foliage in the Smoky Mountains
Normally, fall colors in the Smokies will be their best around early November. Around the end of October, leaves in higher elevations will reach their peak. About a week later, trees in the lower elevations will show vibrant colors. Autumn foliage typically remains into early-mid November.
Guide to Spotting Trees Based on Their Fall Leaves

The changing of the leaves makes easier to identify trees in the Smoky Mountains. Each species has its own unique shade of color. Here is a look at some of the most well-known varieties of trees in the Smokies:
Shining Sumac: red
Dogwood: deep red
Sourwood: brick red
Red Maple: bright scarlet or orange
Oaks: red, russet, or brown
Birch: bright yellow
Tulip Poplar: golden yellow
Black Maple: glowing yellow
Hickories: golden-bronze
Sugar Maple: orange-red
Best Fall Hikes in the Smoky Mountains
Hiking in the Great Smoky Mountains National Park is the best way to get an up-close look at leaves. According to hikers, here are some favorite fall trails, along with round-trip mileage and the best time to hike them:

Early-to-mid October
Sugarland Mountain Trail – 7 miles
Albright Grove Loop Trail – 6.7 miles
Spence Field – 10.3 miles
Mid-to-late October
Little River Trail – 4.9 miles
Porters Creek Trail – 4 miles
Baskins Creek Falls – 3 miles
Grapeyard Ridge Trail – 5.8 miles
Rich Mountain Loop – 8.5 miles
Charlies Bunion – 8.1 miles
Early November
Abrams Falls – 5.3 miles
Schoolhouse Gap – 3.8 miles
Best Fall Drives in the Smoky Mountains
You can also see the beautiful autumn foliage right from your car! Here are some favorite roads to travel for fall leaf peeping.
Early-to-mid October
Newfound Gap Road – 32 miles long
Clingmans Dome Road – 7 miles long
Mid-to-late October
Cades Cove – 11 miles (loop road)
Roaring Fork Motor Nature Trail – 5.5 miles (loop road)
More Great Places to See the Smoky Mountains Fall Foliage
The cities of Gatlinburg, Pigeon Forge and Sevierville are home to a number of attractions that provide views of the mountains and their fall colors. Here are a few destinations you will want to visit:
Ober Gatlinburg Aerial Tramway
Gatlinburg SkyLift Park
Anakeesta
Gatlinburg Space Needle
Gatlinburg Bypassss
Great Smoky Mountain Wheel at The Island
Drop Line at Dollywood
Escape The Crowds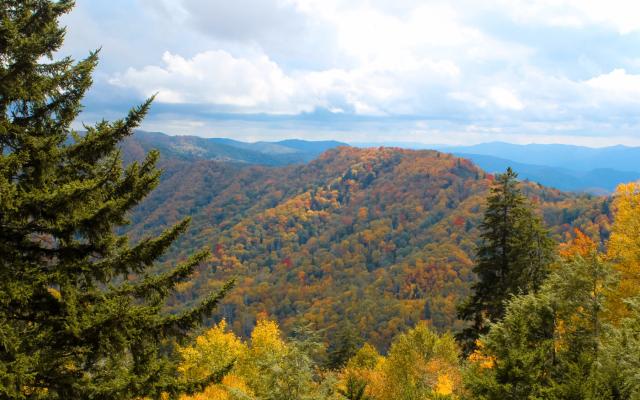 15 Best Places to See the Fall Colors in Gatlinburg and the Smokies
With as many fun things to do as there are autumn views, it's easy to see why travelers looking for show-stopping foliage return year after year to Gatlinburg and Great Smoky Mountains National Park. As the most biodiverse park in the National Park System, the Great Smoky Mountains' many species of trees and plants offer every shade of rich autumn color and countless jaw-dropping places to sit back and enjoy the scenery.
When the leaves start changing, here are some of the most picture-perfect ways to take in the fall colors in Gatlinburg and the Smokies.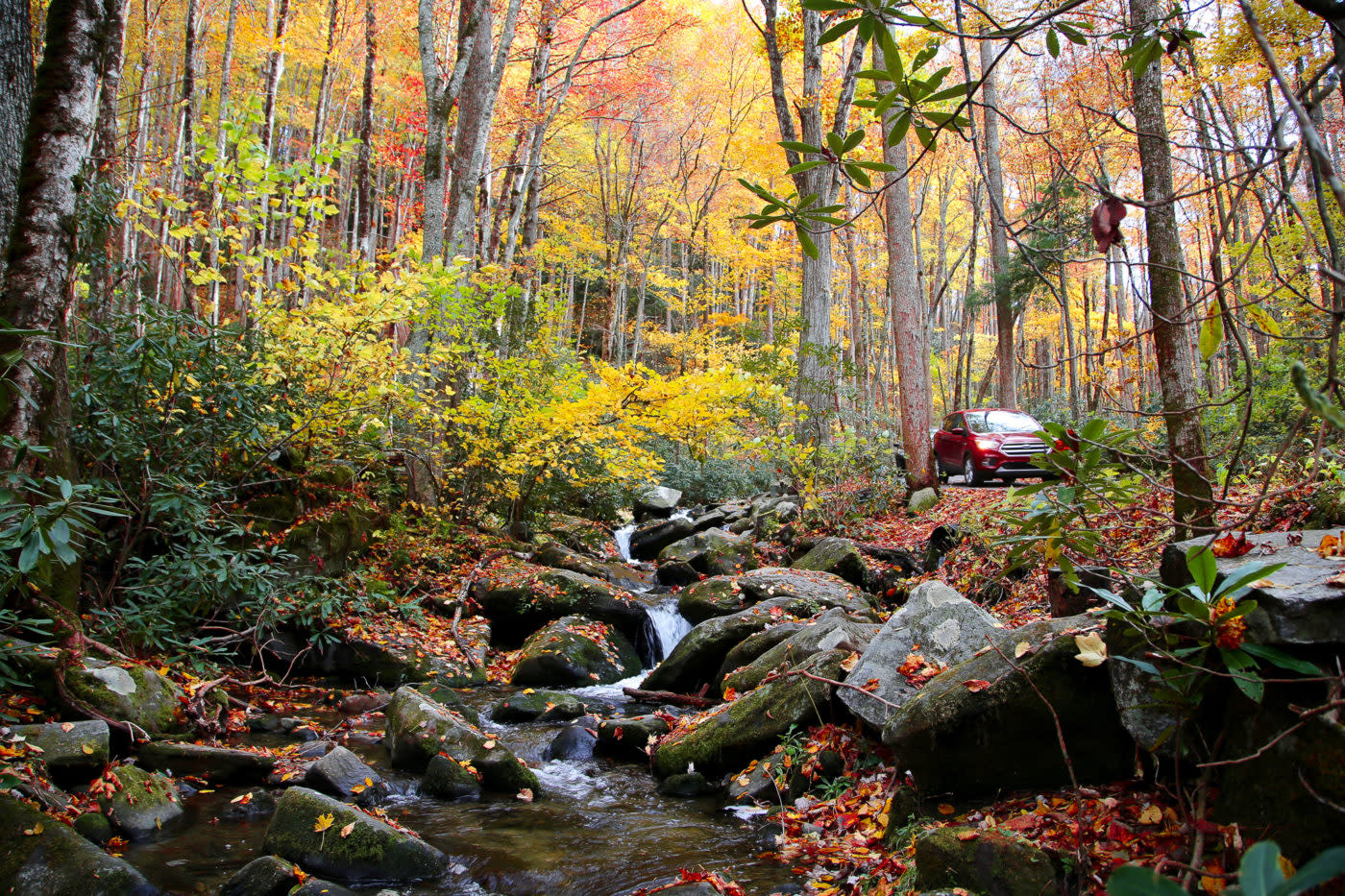 Best Views Scenic Drives
Driving through the Smokies, or auto-touring is one of the most popular ways to explore the National Park. The Park spans a vast 800 square miles, so make sure to fill up your tank before your excursion. If you're unfamiliar with the motor trails, you can stop by the Sugarlands Visitor Center before you hit the roads to pick up a self-guiding tour booklet.
Take a scenic drive through these motor trails to enjoy beautiful views of the fall leaves.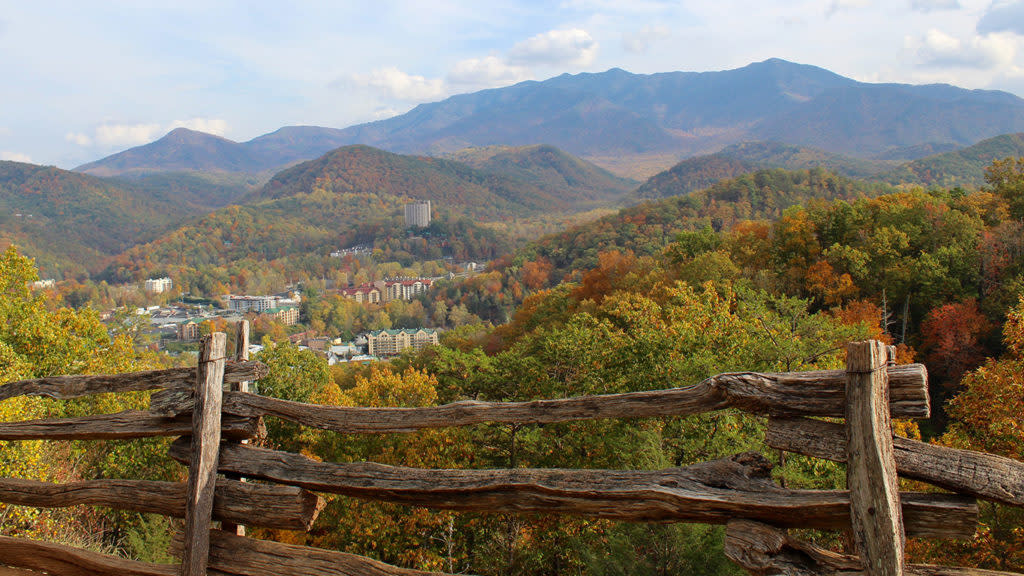 Best Views From Lookout Points In Downtown Gatlinburg
If you like to spend your time downtown, you can still see amazing views of the fall leaves. Downtown Gatlinburg has several great spots that will keep you in the thick of the action while still allowing you to enjoy unforgettable views! If you want to catch a once-in-a-lifetime view without ever leaving downtown Gatlinburg, come on by and visit these landmarks. Fall colors in Gatlinburg occur between the last week of October to the first of November.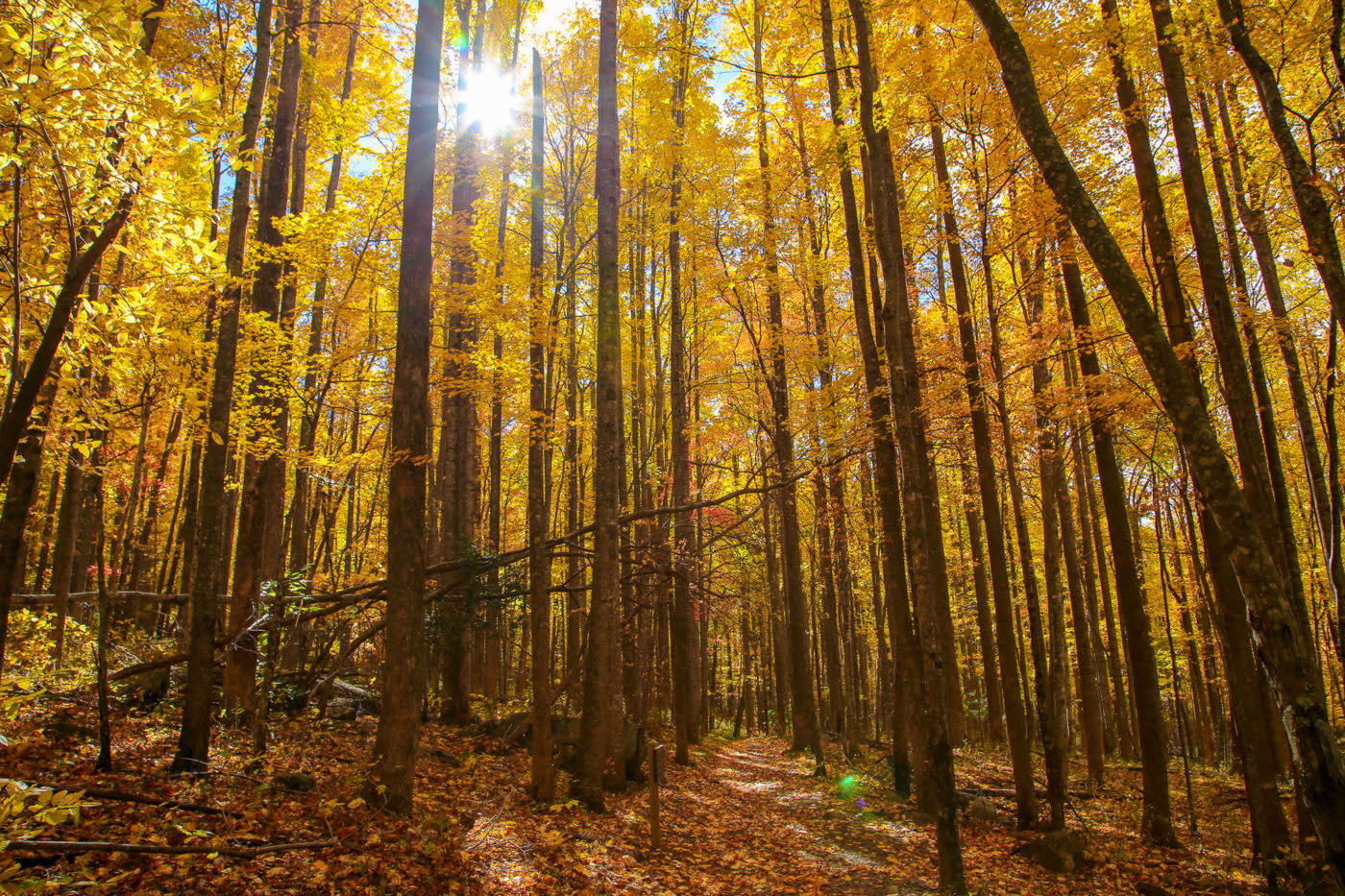 Best Views From Hiking Trails
Some of the most breathtaking views of the Smoky Mountains and the autumn colors can be seen at the height of the most popular hiking trails. Fall is a wonderful time of year to hike a trail and experience the beauty and allure of nature. The crisp autumn air, perfect weather, and stunning colors are enough to leave any park-goer breathless with wonder.
For an adventure in the Smokies, take your pick of these trails to see some of the best fall views.
Baskins Creek Trail
Appalachian Trail from Newfound Gap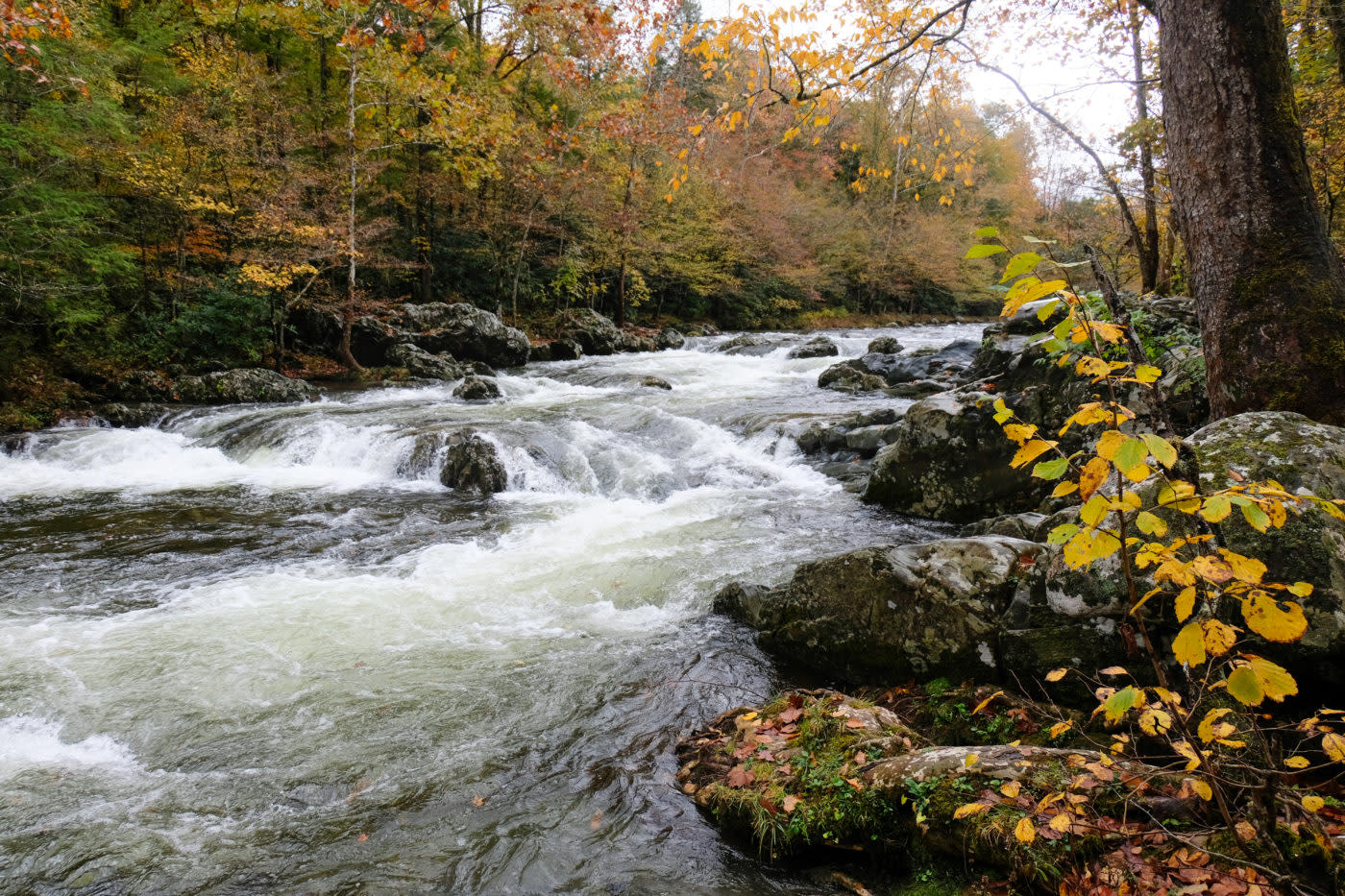 Escape The Crowds
Great Smoky Mountains National Park is the most visited park in the nation, which can lead to overcrowding during peak seasons like October. If you want a more peaceful leaf gazing experience, you can visit some off the beaten path destinations to escape the crowds.
Foothills Parkway East or West
Greenbrier
Rich Mountain Road (Must be accessed through Cades Cove Loop)
October and November are leaf peeper heaven in Gatlinburg.
_________________________________________________________________________________________________
Where to Stay to See the Smoky Mountains Fall Foliage
When you stay in one of our Smoky Mountain cabin rentals, you will be immersed in the wonderful fall foliage in the Smoky Mountains. To start planning your getaway, browse My Bearfoot Cabins.
Pat and Don Kirchhoefer, Owners
Phone: 618-559-3915
Email: pat@mybearfootcabins.com
Website: https://mybearfootcabins.com